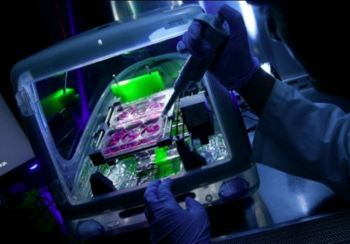 Fun was the only concept in mind when Andrew Pelling established his research lab at the University of Ottawa. The prime objective of this lab wasn't to solve a single problem. Instead, he is making efforts to create a surrounding where visitors can ask fascinating questions and get answers to their queries. In his recent session at TED Talk, he displayed one of his latest experiments where he was successful in creating ears out of apples.
He further discussed about the things he would find in garbage bin and hoped to use cellulose in new kind of medical innovations. His main aim was to bring a few things together, reconfiguring its components and then converting it into a completely new object. Taking inspiration from this thought, he decided to walk down on the same path with respect to organic tissues. His team took an apple, separated apple cells and their DNA, and implanted human cells in the cellulose scaffolding. After bringing his wife in the scenario, he asked her to carve shape of ears from the apples, Pelling took these samples and grew these cells in apple ears.
He further warns that growing ears is not an easy task and might not be possible in coming years. A number of research teams across the world have been working on growing tissues ex vivo. Commercial animal structures that can be used in development of new tissues and organs are very costly and completely prohibited. Andrew emphasizes that his efforts in this direction were rather simple because the source material was a safe and abundant one and very cost-effective.
More than his experiments, Andrew is known for being a compelling and energetic speaker whose sense of wonder compels you to listen to him. Other than his unique concepts and product designs, you will be fascinated with his moonshot level ideas. Building everything based on the playing concepts and recycling the garbage bins has been one of the major sources of applications developed by Andrew Pelling. The concept of using organic materials in creation of body parts is an awesome concept and we hope he will be able to abstract better and more meaningful from these ideas.
---
Filed Under: News
---
---
---